MAKE THE PERFECT CUP OF COFFEE
roasted deep in the heart of blue ridge mountains
Our recipe for the freshest and most delicious cup of coffee? Ethically sourced, single-origin coffees, carefully crafted in small batches and always delivered fresh" -Matt King, Blue Ridge Bootleg Coffee.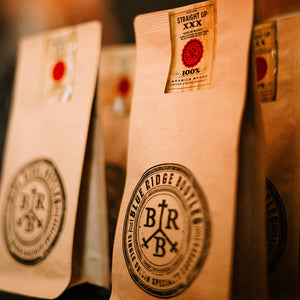 OUR MISSION
BETTER COFFEE BETTER WORLD
We're mindful of where our coffees come from and always look for labels like "Fair trade" and "Organic" certifications, which follow a strict set of rules that impact the environment and farmers' living conditions. Transparency from our sources helps ensure that the farmers are fairly paid and that the farms are maintained sustainably.
Shop our Coffee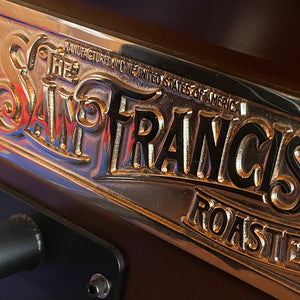 our belief
WHY SINGLE ORIGIN COFFEE
Single-origin coffee has the most original and unaltered flavor profile, while a coffee blend combines the elements of various beans. As a result, single origins tend to have an exotic taste and are bolder and more robust, while a coffee blend balances it out with different beans that complement each other.
Shop Our Coffee
FRENCH ROAST
PRIVATE LABEL ORGANIC SUMATRA
Wow! That's all we can say about this coffee. We are blessed to have gotten a very limited quantity from a small-private plantation in Indonesia. This might be some of the best coffee we've had the opportunity to roast and taste. This is our darkest roast and you're in for an absolute treat. Limited quantities and roasted to order. Please allow 7-10 days after ordering, we want to make this the freshest cup you've ever had.
-Matt
★★★★★

The level of craft and passion makes this coffee unique. We are proud to carry Blue Ridge Bootleg Coffee at our restaurant and make every experience perfect.

Santiago-Ilda

Sylva, NC
★★★★★

To me it was literally "just right" … nice rich dark taste and aroma without the acidic taste. If there was a Goldilocks zone for coffee, I'd say you found it!

Bobby Terry

Garth Brooks Band Producer & Writer
★★★★★

I've found Blue Ridge Bootleg to be incredibly smooth and flavorful, without the bitterness or acidic flavors. The aroma it produces when brewed gets me right out of bed!

Mitch Dane/Owner-producer

Sputnik Studios Nashville
★★★★★

We have been using Blue Ridge Bootleg for a few months now at The Farmhouse & we love it. Although I admit I'm more of a "creamer with my coffee kind of girl," - I have never enjoyed plain black coffee until I had my 1st cup sitting in Matt & Heidi's kitchen.

Tammy Fuller- Farmhouse

Sylva, NC
★★★★★

A must try for coffee lovers Blue Ridge Bootleg's Popskull Pitch Beans has a smooth, rich taste without the acidity. It's darker but bold enough to wake you up in the morning! I threw all my other coffee beans away; nothing I've tried comes close!

Judy Hubbard

Wimberly, TX
★★★★★

Like music (and booze), coffee is equal parts art and craft. Hard to quantify the exact proportions that will hit the sweet spot, but you know it when you find it. Not at all surprising that a guy with the heritage and music background of Matt King has landed on something this good. There are no accidents, and the results speak for themselves.

Chuck A.

Nashville, TN.
★★★★★

After my first cup, all I wanted was another cup! It's the taste!

C Cannon

Singer/Songwriter Nashville TN
★★★★★

I was blown away at BRB coffee the first time I tried it.. smooth and  rich.. it's a staple at the studio now!

Vance Powell

Sputnik Studios Chris Stapelton, Jack White